Raumaster Paper delivers a roll handling system for Stora Enso's Oulu mill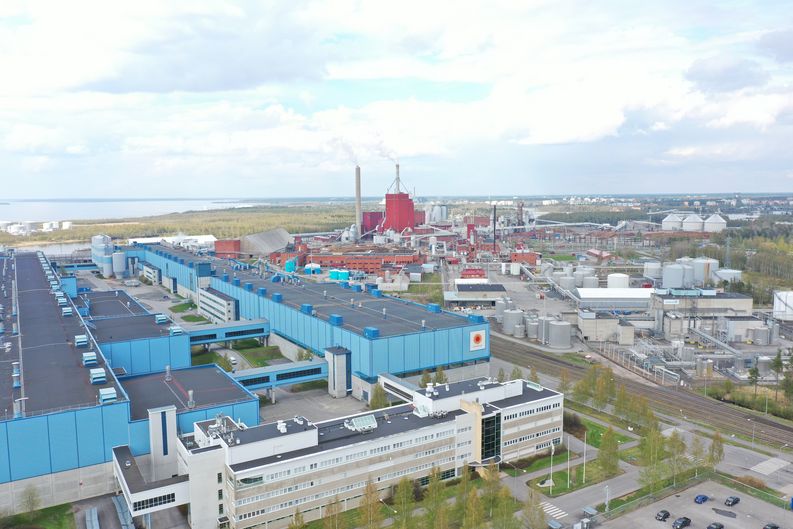 Stora Enso has ordered a roll handling system for their Oulu mill from Raumaster Paper Oy. The delivery is a part of the investment to convert the decommissioned paper machine into a packaging cardboard machine Stora Enso announced in October 2022.
The roll handling system replaces the conveyors and handling equipment delivered by Raumaster approximately 30 years ago used for feeding the rolls in and out of the current vertical storage. It also includes new conveyors in and out of the new high-bay warehouse, upender lines and the wide slat conveyors located after the warehouse that are used for loading trucks by forklifts as well as for the automatic loading of the SECU containers. The delivery also includes a conveyor bridge.
"This deal is significant for both parties, and it is great that we can continue our longstanding customer relationship. The deal has a considerable impact on employment for our staff as well as our subcontractors at the machine shops. The Finnish degree of origin of the project is high. We estimate that it is at least 70%", says Pekka Leino, Managing Director of Raumaster Paper Oy.
In this overall delivery, the automatic loading of the SECU containers (Stora Enso Container Unit) is a new type of product for Raumaster Paper Oy. The production utilizes previous experience and existing technological base.
"Previously, we have produced load formation systems and automatic loading and unloading systems for pulp bales, paper rolls, sheet pallets and timber, for example, but loading large SECU containers is more challenging because of the weights involved and the space we have available for the loading beams. In the future we can offer this solution for other Stora Enso mills", says Kaarlo Talvinen, Sales Manager of Raumaster Paper Oy.
The principles of sustainable development have been considered carefully in the equipment that will be delivered.
"We use new technology platforms to create environmentally friendly techniques. The existing technological base has made these new solutions that consider the environmental aspects already during the design phase possible", Leino explains.
The execution of the first stage of the overall project takes place in the autumn of 2023. During this time, a few conveyors and equipment will be installed and commissioned. The second stage comprises of most of the delivery scope, and it will be implemented gradually in 2024 and 2025.
The parties will not disclose the trade amount. Raumaster Paper Oy is a part of the Raumaster Group.
ADDITIONAL INFORMATION:
Pekka Leino,
Managing Director
Raumaster Paper Ltd
+358 40 7799 622
pekka.leino@raumaster.fi
Kaarlo Talvinen
Sales Manager
Raumaster Paper Ltd
+358 50 411 0165
kaarlo.talvinen@raumaster.fi
Share